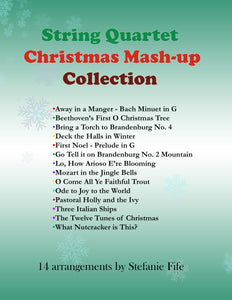 String Quartet Holiday Mash-up Collection - All 14 Arrangements
The complete collection of Holiday Mash-ups arranged by Stefanie Fife.
All 14 fun Christmas mash-ups for string quartet or string ensemble. Each arrangement pairs a traditional Christmas song with a different classic masterpiece by composers such as Bach, Beethoven, Mozart, Schubert and Mendelssohn in a fresh take on beloved holiday music. Titles include: 
Includes: Away in a Manger - Bach Minuet in G  • Beethoven's First O Christmas Tree • Bring a Torch to Brandenburg No. 4 • Deck the Halls in Winter • First Noel - Prelude in G • Go Tell it on Brandenburg No. 2 Mountain • Lo, How Arioso E're Blooming • Mozart in the Jingle Bells • O Come All Ye Faithful Trout • Ode to Joy to the World • Pastoral Holly and the Ivy •Three Italian Ships •The Twelve Tunes of Christmas • What Nutcracker is This?
• Score and parts in 14 individual files  • Easy Intermediate to advanced levels  • Published by Fife and Drum Publishing, BMI; 213 pages; SFAS0014